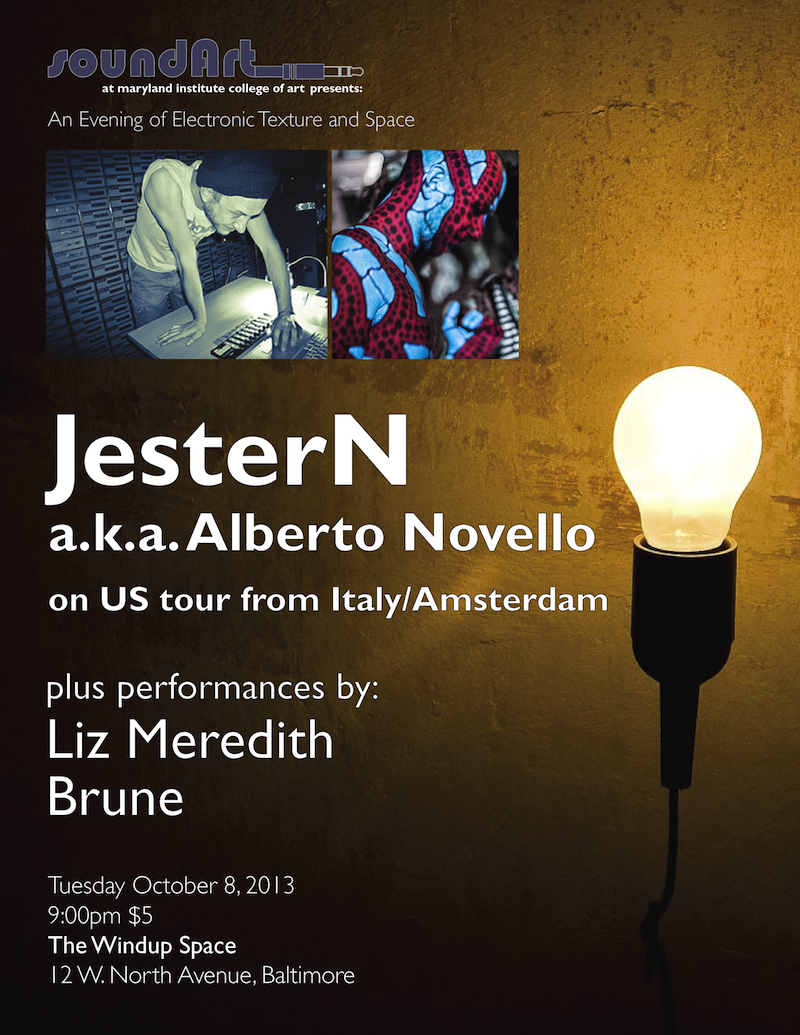 We're very excited to present a live performance by electronic musician and sound artist JesterN a.k.a. Alberto Novello on October 8, 2013 at the Wind Up Space in Baltimore.
The show begins at 9pm and is $5.
Support will be provided by Baltimore electronic artists:
- Liz Meredith
- Brune
Alberto Novello a.k.a. JesterN is a scientist, composer, sound and video artist born in Udine (Italy) in 1977. He studied piano and double bass at the Conservatory of Udine, and played electric bass with several Italian bands. In 2002, he graduated in Physics at the University of Trieste (Italy), he then joined his passion for music experimentation and science completing in 2004 the master "Art, Science and Technologies" at the Institut National Polytechnique of Grenoble (France), under the guidance of J.C. Risset, J.B. Barriere, and C. Cadoz. He was teacher of electronic music composition at the Conservatory Ghedini of Cuneo form 2004 to 2006. From 2004 to 2009 he worked at the Philips Research, Eindhoven, the Netherlands in the field of Music Perception and Music Information Retrieval with several publications in international conferences and journals. In 2009 he received a PhD degree at the Technische Universiteit Eindhoven (The Netherlands) with A. Kohlrausch. In 2012 he graduate in electroacoustic music composition at the Institute of Sonology, Royal Conservatory of Den Haag with P. Berg, J. Ryan, and R. Barret. Since 2004 he produced several electronic audio visual pieces that can be found on his website.
His works have been presented in international festivals and institutes such as Rewire Festival, ToolKit Festival, NIME Conference, ICMC and CCMAS.
http://www.jestern.com/
http://soundcloud.com/jestern
http://vimeo.com/jestern
You can follow any responses to this entry through the RSS 2.0 Responses are currently closed, but you can trackback.